Originally published October 20, 2009 by New York Press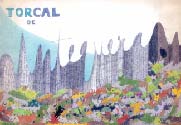 Something In The Water A fantastical gallery opens on a ho-hum NYU block
The Esopus Creek is a renowned trout fishing stream that flows through the Catskill Mountains into the Ashokan Reservoir, a principle water source for New York City. It is also the name of a non-profit foundation, a magazine and now a gallery that all celebrate the quirky, literate and inspired vision of its founder, Tod Lippy. I have long been a fan of the biannual magazine, each issue of which is an artwork itself, full of the most unexpected objects ever to be found in a magazine. Various issues have contained pages that are dye cut or burned, inserts of strings, plastic or rubber, books within a book, and CDs of music or "found" sounds. Each issue is both printed and hand constructed; how the hell Lippy actually gets the damn things produced is anyone's guess.
It was with great delight then that I greeted the news that The Esopus Foundation had opened a gallery space in NYC. Consistent with the Esopus tradition of reveling in the unexpected, the gallery space is in a weird 1980s-era building near the NYU campus, not near any other gallery, not in a neighborhood that's cool or even un-cool. It sits in the midst of student falafel joints and wannabe dive bars like that glorious found object you discover on trash night.
The current exhibition, Dwight Ripley:
Travel Posters is a perfect component of the Esopus universe. The most glorious, gorgeous drawings that I have seen in a long while have, of course, a fascinating backstory that adds to their mystic.
Dwight Ripley was a major part of the post-war New York cultural scene. He was the financial backer of the Tibor de Nagy Gallery and part of the social circle that included Clement Greenberg and Peggy Guggenheim. His passion, however, was the search and discovery of new and exotic plants. He and his companion Rupert Barney traveled the world for years discovering 74 plant species that now live in the New York Botanical Garden.
After his death in 1973 a trunk was discovered that contained the 13 drawings that comprise this exhibition. They are "travel posters" that chronicle a specific plant-gathering trip through Spain and Portugal in 1962. Drawn in ballpoint pen and luscious colored pencil, they are ostensibly landscapes, but so much more.
Swirling psychedelic puzzle pieces and bold '60s graphic design seem both retro and wildly contemporary. Each drawing contains the name of the location written in an idiosyncratic script that weaves in and out of the overall design. But the true madness of the drawings is that hidden as a sort of under painting in each one is the obsessively written Latin names of the plants discovered in each locale. They are giddy with Mediterranean sunshine and color.
Lippy foresees six to eight exhibitions a year. Some will run in tandem with projects in the magazine, others will stand independently. But all will all reflect the deliciously odd, rich world of Esopus. After all, Lippy spends part of each year living on the banks of this namesake creek; maybe it's something in the water.