Originally published Wednesday, November 12, 2008 in New York Press
By Melissa Stern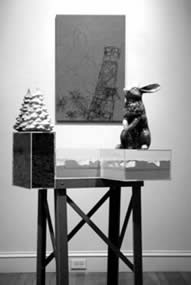 A bizarre menagerie of creatures has come to roost at Greenwich House Pottery. A venerable institution not known for experimental or conceptual exhibitions, its current show will certainly change the view of GHP as a "pottery school."
The exhibition entitled "Synthetic Experiments" is a two-person show by Chad Curtis and Greg Stewart. It is a mixed-media show, involving some, but not much clay that purports to examine both the notions of "mutation" and "synthesis." It's an interesting and somewhat difficult show that requires explanation to make it all work. I have to admit to a gut negative response to visual artwork that relies on words to clarify its intent. I think that a viewer should be able to understand or at least respond to the show without reaching for the artist statement to make sense of it all. One artist's work is about mutation—the possibility of biologic change. The other's is about synthesis and the combination of disparate elements into a new whole. Taken together, I suppose, they are meant to represent the primary two forms of change in the world.
Nonetheless, the sculptures of the two artists look great together and terrific in the elegant parlor gallery. There's an odd, toy-like quality that is quite compelling. Bright color and the use of what looks like the lining of old sleeping bags lends the sculptures an appealing juvenile air.
The pieces by Greg Stewart—mutated deer-like creatures with lumpy bodies made of intricately patched fabric and objects—are the less accessible of the two. Fiberglass deer heads, face down to the floor, their stuffed bodies pierced with wood and fake apples: These pieces challenge you to like them. The use of deliberately tacky genre fabrics that make up the bodies are the most visually interesting part of the sculptures. The patchwork of flannel flying geese, moose and hunters in camouflage makes a coherent and compelling statement.
In contrast, Chad Curtis' work is elegant, funny and more accessible—at least on a surface level. His sculpture assemblages of brightly glazed cast ceramic animals stand like bizarre trophies proudly perched on top of elaborately constructed bases. The contrast of materials—shiny and matte, wood and plastic—makes the artist's point about "synthesis" in a very direct and effective way. They are quite formal in conception and construction, beautifully constructed.
A computer produces Curtis' drawings, mechanical silhouettes of animals and machines on layersof velum or board. The velum drawings are pretty, but they're cool emotionally. They sneak up on you and are easy to dismiss because of their beauty; the content resonates after you leave the gallery.
Taken together, the two artists' work is provocative, visually compelling and thought provoking. The show itself is an encouraging departure for Greenwich House, one that its curators and organizers should take pride in and seek to emulate in future.
Synthetic Experiments – Through Nov. 27. Greenwich House Pottery, 16 Jones St. (betw. Bleecker & W. 4th Sts.), 212-242-4106; hours vary.