Originally published Wednesday, October 8, 2008 in New York Press
By Melissa Stern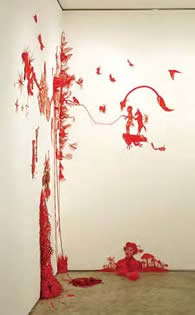 "SELF-PORTRAIT (OCTOPUS Head)" doesn't sound like it would be beautiful. But thanks to the beautiful, nutty work of Tokyo-born, Brooklyn-based artist Kako Ueda, a human head,grafted onto an octopus' body and either eating or expelling agiant frog, is delicate and beautiful; it's man and nature in tenuous harmony.
In "Totem," up through Oct. 18 at George Adams Gallery, Ueda takes the somewhat crafty artform of paper cutouts and turns it into something totally contemporary. The process is labor intensive in the extreme. She hand-draws imagery onto sheets of paper and painstakingly hand-cuts each piece into lace-like creations. Pause too long to muse over this perfection, though, and you might miss the delicious weirdness of the content. It's the tension between pieces that look machine made and the personal, surreal content that makes the work so enchanting.
Often Ueda layers the cut sheets of paper to create a slim dimensionality in what are essentially flat works. Occasionally she adds touches of watercolor or colored pencil.
The exhibition consists of seven pieces, all of which loosely explore the relationship between nature and culture; one of those big subjects that so often succumbs to cliché. Giant bugs, lizards,body parts and humans all vie for our attention. The natural world seems constantly on the verge of taking over man's place in the universe.
The most ambitious piece in the exhibition is "Totem" (pictured) an installation that covers an entire corner of the gallery. In shocking red and measuring 139 inches by 111 inches, it depicts acut paper narrative with collage elements.
The balance between densely filled and empty space is elegant and carries the narrative along the walls and onto the floor.
The imagery—men, women, bugs and horses—is augmented by clouds, birds and stars, giving this piece a different sense of context than the others.
Ueda's vision and craft is solid and original, bucking the trendiness of Chelsea's art scene. It's a very individual vision that transcends the personal to resonate as a larger comment on man andthe natural world. That's certainly a rare find in the concrete jungle.
Through Oct. 18, George Adams Gallery, 525 W. 26th St. (betw. 10th and 11th Aves.),