Originally published June 18, 2008 by New York Press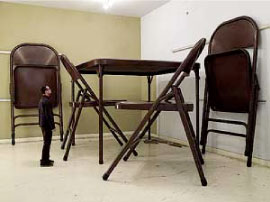 Chelsea, home to some of the most self-important, pretentious, even grim artwork these days, is currently host to an exhibition that is so beguiling and delightful that even the gallery guards are smiling. The Gagosian Gallery is exhibiting the current work of Robert Therrien, a Los Angeles sculptor whose art has long defied both categorization and fashion. The gallery has been invaded by banal but gigantic objects. Stacks of oversized plastic dishes in the pale colors of old lunchrooms are piled 8-feet high. Towers of pots, pans and bowls come in three sizes: miniature, normal and enormous. They are perilously balanced as if a chef gone mad has left them like totems throughout the gallery.
A nearly 9-foot-high array of folding tables and chairs occupies its own room, making the viewer feel like a tiny player in a strange, big-screen movie. The scale of the room is a little bit too small for the 19 huge sculptures that nearly burst out of the confines of the space. The impeccable fabrication, all done by commercial manufacturers, adds to the surreal nature of the entire exhibition.
Packed with these objects, the gallery is now a giddy space: at once mythic, meaningful and silly. Therrien has taken the most ordinary objects in our lives—dishes, pots, pans and folding chairs—and transformed them into something of monumental scale and meaning. The objects, reminiscent of childhood, are both reassuring and scary. Like a dream that teeters between humor and nightmare, they leave the viewer in a strange liminal state. A slightly different view of "home" is expressed in No Title (Red Room). No less than 888 red objects are arranged in a painstakingly insane kind of order. Red sneakers, crayons, shirts, owls, cutlery, lanterns are just a few of the objects that live in a closet, a secret universe behind Dutch doors. To view it is to peek into the intimacies of a mind laid bare. It is fabulous.
The funny thing is this: Although there is much genuinely serious content in the work, it is also delightful. Gallery-goers wander around and through the giant card tables and chairs and then tiptoe around the stacks of dishes, as if afraid to make them fall.
The two guards at the gallery were obviously delighted with their job as caretakers of this giant dream, the day I visited, engaging with viewers as they urged them to resist the desire to climb up on the chairs. One guard told me that this was the best exhibit he had ever seen. "This guy, he takes you in his hands, and rolls your mind around, and throws you out like dice," he said. "Who knows what you'll be thinking."
Robert Therrien is a slight-of-hand artist of the highest order, and having your mind shuffled by him is a strange and delightful experience. It doesn't get much better than that.
Through July 11. Robert Therrien at Gagosian Gallery, 555 W. 24th St. (betw. 10th & 11th Aves.), 212-741-1111.