Originally published Tuesday, June 23, 2009 by New York Press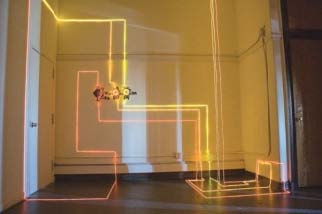 LET'S GET THE obvious question out of the way: A "snatch block" is the part of a crane that the hook is attached to. Given that the co-owners and curators of Snatch Block Projects are hard-core steel welders, this seemed like a natural name for their new art venue. Not commercial, not even alternative, it is "a place and a chance to do whatever we want," curator John Clement explains. And so they have. You get off the L train, far beyond Bedford Avenue and you walk and walk and then walk some more. You pass a couple of chop shops, a tortilla factory (buy a bag fresh off the grill from the loading dock!), over the English Kills Canal, past the local strip club and you reach a Victorian firehouse.
This mini-universe contains the studios of curators John Clements and Arthur Mednick, four other artist studios and the Snatch Block Projects gallery space. It is out there.
The gallery's inaugural show is the New York City debut of a young artist from Houston, Ariane Roesch. Titled The Rescue at the Firehouse, it is a site-specific project about dreams and submarines.
Using electroluminescent wire, a very cool new technology, Roesch has created a magical room. As far as I can tell, these are like neon lights, a thin rubber tube that creates thin glowing lines of color that seem to vibrate in the air. They are beautiful all by themselves and even more so in the hands of the artist. She has used these to trace the progression of a dream. Hidden in a closet, the silkscreened image of a sleeping woman on a pillow is the starting point. The wires emerge from her pillow and traverse the gallery, stopping to lead in and out of "pumps and valves" (also silk-screened images). The evocation goes nicely with the original intent of the site. Though the artist was reluctant to assign a meaning to the piece, my suggestion of a dream seemed to sit just fine with her. The room is dark, the glowing wires, red, yellow and orange snaking around the architecture make you keenly aware of the space. It's a project that is simultaneously simple, direct and, on second glance, meditative and complex.
The Firehouse—the name of the building housing the gallery—is a beautiful piece of Victorian architecture in the middle of the most industrial of urban neighborhoods. Mednick and Clements envision the space as an exhibition space for innovative and non-commercial projects and have plans for presenting four to six projects a year, though what comes next is still being planned. It is a welcome new venue in New York and well worth the hike to visit.
> The Rescue at the Firehouse
Through June 30, Snatch Block Projects, 1196 Metropolitan Ave. (betw. Varick & Stewart Sts.), Brooklyn, 917- 400-0877