Originally published May 11, 2010 by New York Press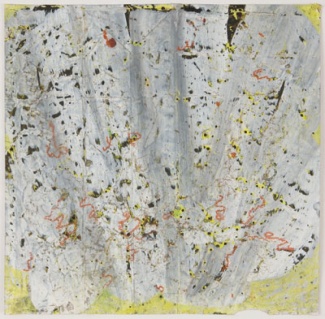 What goes on in the mind of a children's book illustrator. Rainbows and ponies and the sweetness of childhood? The exhibition of drawings by Douglas Florian (at BravinLee Programs through June 5) begs to differ. The exhibition peers into the far more complicated mental musings of an artist best known for his whimsical and gentle children's book illustrations. The intriguing question is, are the inner workings of the artist's psyche different from his commercial work?
These relatively small gauche and collage paintings are on one level an exploration of the raw, natural world, in all its messy beauty. Working on thickly gessoed brown paper bags, Florian paints in what feels like a stream of conscious. Shape and color flow and morph into vaguely recognizable objects from botany, anatomy and geology.
There is also a palpable eroticism to many of the pieces. In "QQ," a hot pink sinewy line winds itself around and around the paper, curling into a final embryonic shape in the center of the paper. Punctuated by hits of brilliant turquoise paper, collaged onto the surface, the entire painting vibrates with the possibility of new beginnings.
Three related paintings entitled "My Mither's Womb," "And Eek Behind" and "Of Fumes and Fragrances" also address the intrigue of an interior private space. Bulbous turquoise forms tightly engulf smaller gray and orange shapes. There is a benign sense to these three—something (or things) is being held tightly, ready to burst, but not in a violent way. In fact, this sense of gentleness is the unifying theme of the entire body of work. Florian may be playing with ideas of nature, the psyche and a somewhat childlike vision of sex, but nothing jars the eye or mind. This is both a strength and weakness of the work.
Though everything is lovely, there is sameness in tone to this exhibition. It makes one yearn for an inelegant and impolite outburst of color of emotion. It is this very same sense of calm that inhabits the universe of drawings that Florian makes for children's books. Maybe, in the end, the two bodies of work are not so different. Douglas Florian may actually see the world as a kind and gentle place as well as a visually rich and compelling one. And that's not a bad thing.