Originally published February 24, 2010 by CityArts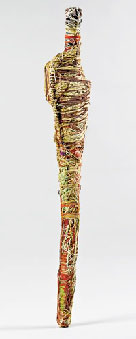 Traditionally, much of outsider art has been figurative. That's in large part due to outsider art's appeal to mainstream viewers: The work is a kind of skewed vision of the world as we know it. Like a funhouse mirror, the work of outsider artists portrays a world tweaked by the filters of madness, illiteracy, loneliness or any number of factors that renders someone "outside" of society.
The exhibition at The American Museum of Folk Art, however, attempts to show another aspect of outsider art, and it is one that relates the work much closer to modern and contemporary art. Approaching Abstraction showcases the work of 40 artists whose work tips over the line into "abstraction," from those who obsess on numbers (Martin Thompson), materials (Judith Scott, Philadelphia Wireman, Mr. Imagination) or ritual (John Murray's, Eugene Andolsek). These artists and others work in ways that belie the stereotyped forms of outsider art.
The exhibition is a little didactic, which appears to remain part of the mission of the American Folk Art Museum. I understand and respect this, but in some cases the work would be better served if it could just sing by itself, rather than be organized into categories such as "Obliterating Form" or "Distortion and Exaggeration." The neat categories dampen the exuberant and original nature of the work a little; the explanation feels forced. But nothing can really hold it down. The pieces in Approaching Abstraction are as strong and worthwhile as anything that you will see in any museum in the city, with more than a few standout pieces.
William Hawkins is represented by a painting that is at once poetic and hilarious. The combination of corny collaged photographic images and Hawkins' antic painting is fabulous. His black and white "modernist" building captures without guile the attempts of modernism to be neat, at the same time the building is beginning to bubble over with color and energy.
"Untitled (Vehicle)" by Dwight Mackintosh is a perfect example of the point that the curators of this exhibition are trying to make. A wonderful mass of lines, both calligraphic and abstract, pours across the paper, a treatise in an unknown language. At the bottom of the picture plane, perfectly placed, is a series of beautifully composed shapes that suggest the possibility of a vehicle. The balance of modernist color and tone—graphite, black and two great shades of yellow and orange—all combine to make this a terrific drawing, no other explanation needed.
I love the small wooden sculpture titled "Hens and Chicks With Rooster" by Leroy Person. Rough, but elegant forms are carved from wood and densely colored with crayon. These shapes are both something and not something—both hens and also just shapes.
A lovely and vibrant show, the work in this exhibition and genre and would stand on its own as fascinating contemporary art—outside categorization.
Approaching Abstraction, through Sept. 5. American Folk Art Museum, 45 W. 53rd St. , 212-265-1040.