Originally published November 21, 2007 by New York Press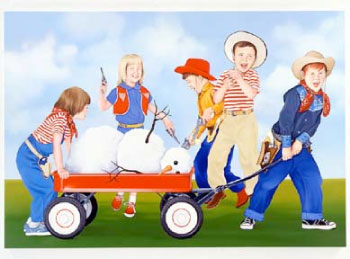 The current exhibition at Anna Kustera Gallery, Friday, is a sly, dark and compelling retelling of the Passion of Christ. The paintings and mixed-media sculptures by Sean Mellyn are both sacred and absurd. Christ, in the guise of a miniature snowman, makes his way through the imagery of childhood onto the Mount. Perched precariously atop a stack of faux cardboard boxes, it is hard to tell whether he's in imminent danger of crucifixion or melting. It is precisely this delicious counterpoint of oft-told stories and the surreal adventures of childhood that gives the show real punch.
Mellyn's religious theme is buried deep enough, and the painting is so good, that for a non-believer like me it was easy to miss the larger narrative. Once aware that there was a unifying storyline, I found the show worth a second, rewarding look. Though I admire the artist's reinterpretation of this ancient story, the paintings and objects are strong enough that they transcend the need for it. Judas, depicted as a slick '70s hipster wannabe in huge aviator glasses, stares slack-jawed as a tiny witch (Satan?) is reflected in his shades. Christ, this time as a giant messy snowman, is being hauled off to Calvary in a red wagon pushed and pulled by a posse of 1950s-style, mean-faced children. So much for childhood innocence.
This is a strong, compelling and bizarre vision. The only "off" note is the portrayal of Nancy Regan cast as Veronica clutching a hankie imprinted with her beloved Ronnie's face. The injection of a political note seems a bit forced, but then again, maybe this is just another level in the absurd world that Sean Mellyn inhabits.
Through Dec. 8 at Anna Kustera Gallery, 520 W. 21st St. (betw. 10th & 11th Aves.), 212-989-0082.