Originally published October 24, 2007 by New York Press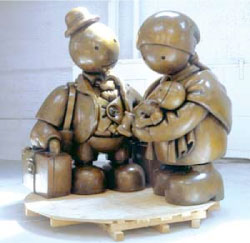 Tom Otterness' sculptures work on several levels at once—the blend of the innocence and corruption in his world is so funny and so dark—and the fact that he's managed to place so many of these sly and twisted figures in public places never ceases to amaze and delight me. His Eighth Ave. subway installation (at 14th Street) infests the station with money-grubbing little men and women. His large fountain in Hudson River Park, an ode to capitalism, is a delight to both children and adults.
Otterness' current exhibition, the inaugural show, The Public Unconscious, at the spanking new Marlborough Gallery's Chelsea space, does not disappoint. Giant bronze sculptures of humans and bugs crowd a large universe into a Chelsea Gallery. I'm sympathetic to the sentiments expressed in a piece like "Large Consumer" that tackles, in one breath, consumerism, class and religion. These are common Otterness themes that he's addressed again and again, but are rendered freshly and delightfully here. In this exhibition, however, it's the subtler, less-direct pieces—like "Large Millipede," a 10-foot-long millipede wearing dancing shoes—that I find most engaging. A bit of mystery remains in the non-human pieces—"Walking Stick," "Kissing Dung Beetles," "Mouse"—and these works leave the story a little open-ended. On the whole, political messages are buried a bit deeper, so the viewer has a little more breathing room to interpret this latest work.
While I was at the gallery, a young mother came in with two toddlers who immediately began to weave elaborate and delightful narratives about the sculptures. The gallery staff was tolerant of their young energy (though there is "NO Touching"), and the presence of these children made the entire gallery come alive. This breathing of life into surrounding spaces is ultimately what makes Otterness such a successful public artist. His work and his political message never hits you too hard over the head because, at the bottom of his vision, is a giddy delight in the world. Yeah, politics are corrupt and men are greedy, but the world is nonetheless a silly place.
Through Nov. 3, Marlborough Chelsea. 545 W. 25th St. (betw. 10th & 11th Aves.), 212-463-8634.